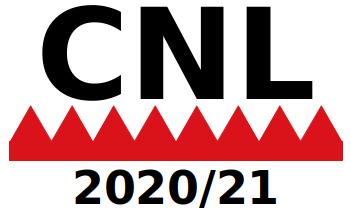 Main | Program
Program of CNL 2020/21
Full paper slots consist of 20 minutes presentation and 10 minutes discussion. Short paper slots have 15 minutes presentation and 5 minutes discussion.
We have four candidates for the best paper award, indicated below.
The papers can be found in the ACL Anthology.
The best paper award went to the paper by Yannis Haralambous and Tian Tian on Tailoring a Controlled Language Out of a Corpus of Maintenance Reports.
Wednesday, 8 September 2021
Morning session 1:
9:00-9:30 Intro
9:30-10:00 Nataly Jahchan, Anne Condamines, Emmanuelle Cannesson and Helene Giraudo. Towards a More Natural Controlled Language in Future Airbus Cockpits. A Psycho-linguistic Evaluation (full paper). Best paper candidate
10:00-10:30 Rolf Schwitter. The Grammar of PENG ASP Explained (full paper)
Morning session 2 (joint session with Legal Compliance workshop):
11:00-11:45 Keynote 1: Mariette Lokin and John Bulles. Law Analysis, a semantic foundation for meaningful service delivery
11:45-12:30 Panel discussion
Lunch break
13:30-14:30: Semantics keynote: Vanessa Lopez. Knowledge Graphs for Social Good: Protecting Vital Health and Social Programs (Joint session with the main conference)
Afternoon session 1:
14:45-15:15 Arianna Masciolini and Aarne Ranta. Grammar-Based Concept Alignment for Domain-Specific Machine Translation (full paper). Best paper candidate
15:15-15:45 Mischa Corsius, Stijn Hoppenbrouwers, Mariette Lokin, Elian Baars, Gertrude Sangers-Van Cappellen and Ilona Wilmont. RegelSpraak: a CNL for Executable Tax Rules Specification (full paper)
15:45-16:15 Ilona Wilmont, Diederik Dulfer, Jan Hof, Mischa Corsius and Stijn Hoppenbrouwers. A quality evaluation framework for a CNL for agile law execution (full paper)
Afternoon session 2:
16:30-17:00 Yannis Haralambous and Tian Tian. Tailoring a Controlled Language Out of a Corpus of Maintenance Reports (full paper). Best paper award
17:00-17:30 Norbert E. Fuchs. The Law of Inertia and the Frame Problem in Attempto Controlled English (full paper)
17:30-18:00 Mary-Jane Antia and C.Maria Keet. Assessing and Enhancing Bottom-up CNL Design for Competency Questions for Ontologies (full paper)
Thursday, 9 September 2021
Morning session 1:
9:00-10:00 Keynote 2: Piek Vossen. Controlling the language of robots to learn about the world and create a common ground
10:00-10:20 Abdus Salam, Rolf Schwitter and Mehmet Orgun. Human-understandable and Machine-processable Explanations for Sub-symbolic Predictions (short paper)
Morning session 2:
11:00-11:30 Laurette Marais. Approximating a Zulu GF concrete syntax with a neural network for natural language understanding (full paper). Best paper candidate
11:30-12:00 Norbert E. Fuchs. Reasoning in Attempto Controlled English: Mathematical and Functional Extensions (full paper)
12:00-12:30 Inari Listenmaa, Maryam Hanafiah, Regina Cheong and Andreas Källberg. Towards CNL-based verbalization of computational contracts (full paper)
Lunch break
13:30-14:30 Roundtable session
Afternoon session 1:
14:45-15:05 Lloyd Rutledge and Rudy Italiaander. Toward a Reference Architecture for Traceability in SBVR-based Systems (short paper)
15:05-15:25 Joel Cedric Lengeling. Facilitating the application of Controlled Natural Language (CNL) to standardize communication in logistics and supply chain management (short paper)
15:25-15:45 Joan Byamugisha and Nomonde Khalo. A CNL-based Method for Detecting Disease Negation (short paper)
15:45-16:05 Michael Hsiao. Multi-Phase Context Vectors for Generating Feedback for Natural-Language Based Programming (short paper)
Afternoon session 2:
16:30-17:30 Keynote 3: Bob Kowalski. Logical English for legal applications
17:30-17:40 Closing